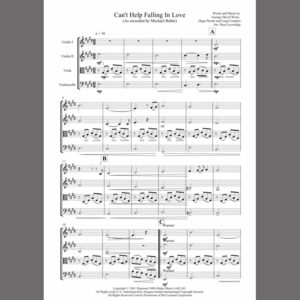 Most people know that 'Can't help falling in love' was originally a hit for Elvis Presley in 1961, but fewer know that it was actually based on a Romantic period work of classical music written in 1784 by Jean-Paul-Egide Martini called 'Plasir d'amour'. It featured in Presley's '61 film 'Blue Hawaii' which took it to number 1 in the US for six weeks.
In recent years it's appeared in numerous films (Blade Runner 2049, Coyote Ugly, Fools Rush In), and one of its more famous cover versions was by Canadian singer Michael Buble.
This version will keep fans of both versions happy with the same pace, gentle arpeggios and key change featured in both recordings.
The sheet music for Can't Help Falling In Love for String Quartet is only available at SheetMusicPlus.com, and is available to download instantly as a score and pdfs for $12.99. You can also see preview pages and hear sound samples.