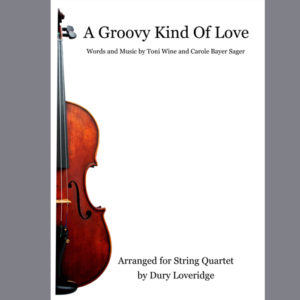 First released in 1965, 'Groovy Kind of Love' was written by Toni Wine and Carole Bayer Sager. In 1966 it was covered three times (most notably by Petula Clark), and then three more times in 1967 (including by Gene Pitney). It was good fortune for Wine, who wrote
"We write it in 20 minutes. It was amazing. Just flew out of our mouths, and at the piano. It was a real quick and easy song to write."
Its most notable cover version was by Phil Collins in 1988. He'd originally recorded a demo version as a suggestion for the film 'Buster'. He recorded it again when he took a starring role in the film (set in the 1960s), and it became his only single to reach number 1 in the US and the UK, and won him a Grammy nomination for Best Pop Vocal Performance in 1989.
This version (including the famous key change) is based on the Collins version.
This sheet music is available exclusively at SheetMusicPlus.com, and is available for around £9.90 to download instantly as a score and parts in pdf format.