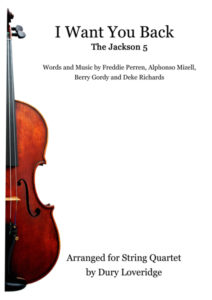 Released in 1969, 'I want you back' is one of the Jackson Five's biggest hits, and ranked 121 in the Rolling Stone's list of the 500 greatest songs of all time. It has sold over 6 million copies, and in 1999 was inducted into the Grammy Hall Of Fame.
It was originally considered for Gladys Knights & The Pips, and later Diana Ross, it became an anthem for the Jackson Five, played at all of their live shows, and considered by many to contain one of the best pop chord progressions of all time.
This version is perfect for weddings and parties, and is guaranteed to get the toes of the audience tapping – and the cellist.
The sheet music for I want you back is only available to download via SheetMusicPlus.com for $13.99. On the site you can preview the score and hear an audio sample.